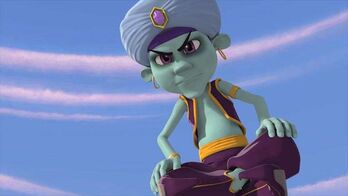 Basim The Genie is another villain release by Lord Tenoroc in episode 10 of season 1 Twisted Genie and his ghost appeared in Season 4 Episode 9: Ghost in the chronicles.
Appearance
Edit
Basim is a disingenuous and an evil genie, his collor is blue and his eyes collers is purple and black and white, he has a golden bracelet on his muscle in his left hand and another one on his wrist in his right hand, he wearing purple pants and wearing purple boots like a clown and he wearing a light blue head scarf in the his middle a rosette jewel and has a two golden earring in both his ears and and flyi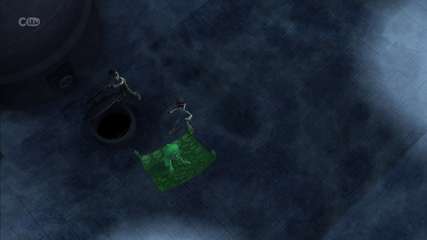 ng on his magic carpet.
In the series
Edit
He was summoned in the Sea of Sands by Lord Tenoroc to find his magic lamp and his three wishes. And then, Bassium will achieve to Tenoroc's ultimate wish, and which are is: (Conquer the multiverse and make king of darkness Lord Tenoroc king of all the multiverse).
Weakness
Edit
He can be defeated easily when breaking his Magic Lamp which is used to achieve wishlist.
Abilities
Edit
Basim can achieve wishlist and who owns a magic lamp can get three wishes, He also has a areal agility and ability to fly by his magic carpet, And he can also switch to the double of its shape and his voice, And become his hands a expanded rubber hand and increases his magical strength more than ever before he can through which crush his enemies in no time.