Lio Hatter is Captain Lightning's alter ego in the real world and Matt Hatter's adopted older brother.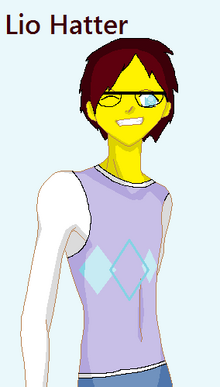 After Tenoroc was defeated once again and Alfred was free from his prison, he decides to move in with the Hatters and have been helping them in the Coronet while traveling to the Multiverse with Matt ever since.
Name: Lio Hatter
Alter Ego: Captain Lightning
Age: 18
Home: Carnival City, London
Relatives: Matt Hatter (adoptive younger brother), Meg Hatter (adoptive mother), Harry Hatter (adoptive father), Alfred Hatter (adoptive grandfather), Marlon (adoptive pet dwarf Tasmanian devil)
Favorite Food: Gummy Villains, steak & cheese sandwiches, popcorn, London pastries, Japanese strawberry shortcakes, donuts, his own cooking, chocolate
Favorite Drink: Cappuccino, Soda, Root Beer, Lemonade
Likes: Working in the theater the Coronet, cappuccino breaks, spending time with Matt and his friends in the Multiverse, lightning, music, studying, reading, inventing things, math, science, cooking, fixing Harry Hatter's inventions
Dislikes: Lord Tenoroc, remembering his bad memories, being left behind, Roxie getting in his way, having nightmares about his past, being made fun of
Personality: Logical, smart, funny, well-mature, inventive, an expert cook, helpful, kind, quick, short tempered, brotherly, organized, encouraging
Ad blocker interference detected!
Wikia is a free-to-use site that makes money from advertising. We have a modified experience for viewers using ad blockers

Wikia is not accessible if you've made further modifications. Remove the custom ad blocker rule(s) and the page will load as expected.