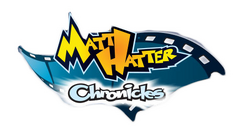 Matt Hatter Chronicles , produced by Nigel Stone at Platinum Films, Arc Productions, and Dream Mill, is a United Kingdom and Canadian animated series that started airing on Teletoon on September 8, 2012. The CGI series stars Tommy Campbell as Matt Hatter, Larissa Murray as Roxie, Marcel Mccalla as Gomez and Kevin Eldon as Tenoroc. The series was primarily recorded at Pinewood Studios in the UK.
It airs on Cartoon Network in India (premiered May 19, 2014) and will be broadcast in South Asia across Bangladesh, Pakistan,Nepal, Sri Lanka on Cartoon Network. In India, it airs, Monday to Thursday, in 4 languages, English, Hindi, Telugu & Tamil. UK Platinum Films, which produces and distributes the series, has appointed CGI animation studio Xentrix Studios in Bengaluru, India to animate Season 3, which aired later in 2014.
Networks that aired the Show
Edit
Nickelodeon and CITV in the UK
Disney XD in The Netherlands
Canal Panda in Portugal, Clan TVE in Spain
Nickelodeon in Australia and New Zealand, Network Ten Australia, TVNZ New Zealand
JeemTV And Cartoon Network Arabic in the Middle East Region.
Episodes
Edit
Season 1

| Number of Episode | Title | British airdate | Canadian airdate |
| --- | --- | --- | --- |
| 1 | Knights of the Multiverse | October 31, 2011 | September 8, 2012 |
| 2 | Sting of Scorpiotron | November 1, 2011 | September 15, 2012 |
| 3 | Skull of the Black Raven | November 2, 2011 | September 22, 2012 |
| 4 | The Rise of the Mummy | November 3, 2011 | September 29, 2012 |
| 5 | The Sand Warrior | November 7, 2011 | October 6, 2012 |
| 6 | Doc Fossil | November 7, 2011 | October 13, 2012 |
| 7 | Little Box of Horrors | November 21, 2011 | October 20, 2012 |
| 8 | The Maze of the Minotaur | November 28, 2011 | October 27, 2012 |
| 9 | The Lost Skeleton Key | December 5, 2011 | November 3, 2012 |
| 10 | Twisted Genie | December 12, 2011 | November 10, 2012 |
| 11 | Fire Phoenix Rising | March 5, 2012 | November 17, 2012 |
| 12 | Medusa and the Stone Army | March 6, 2012 | November 24, 2012 |
| 13 | Chamber of Doom | March 7, 2012 | December 1, 2012 |
Season 2

| Number of Episode (overall) | Title | British airdate | Canadian airdate |
| --- | --- | --- | --- |
| 14 | Werewolf King | September 9, 2012 | July 1, 2014 |
| 15 | The Curse of the Crystal Kingdom | September 16, 2012 | July 2, 2014 |
| 16 | Captain Lightning | September 23, 2012 | July 3, 2014 |
| 17 | The Dark Sorcerer | September 30, 2012 | July 4, 2014 |
| 18 | Raider of the Lost Tomb | October 7, 2012 | July 5, 2014 |
| 19 | Flight of the Witch | October 14, 2012 | July 5, 2014 |
| 20 | Trick or Treat | October 21, 2012 | July 9, 2014 |
| 21 | Double Trouble | October 28, 2012 | July 10, 2014 |
| 22 | Solar Eclipse | November 4, 2012 | July 11, 2014 |
| 23 | Heart of a Vampire | November 11, 2012 | July 13, 2014 |
| 24 | Monster from the Dark Lagoon | November 18, 2012 | July 13, 2014 |
| 25 | Night of the Living Dread | November 25, 2012 | July 13, 2014 |
| 26 | Return of the Shape Shifter | December 2, 2012 | July 17, 2014 |
Season 3

| Number of Episode (overall) | Title | Description |
| --- | --- | --- |
| 27 | Cell Blaster Reboot | Tenoroc sends the half man half toy goliath, Magnifico to wreak havoc on the multiverse.The cell blaster gets an upgrade too thanks to a special key that Magnifico had and the battle against Tenoroc continues. |
| 28 | Villain Vault Escape | Prowler is sent by Lord Tenoroc to the sea of sands to steal a barrage of sun blasters from the temple of the sun and to steal back all of the villains back from the chronicles so Tenoroc's tyranny will destroy the multiverse. |
| 29 | Jurassic City | Doc Fossil returns in Carnival City and sends an infestation of Velociraptors to terrorise the City. Tenoroc orders Fossil to raise an army of giant dinosaurs to rule the multiverse and Fossil starts by reanimating the king of the dinosaurs- Rexus Giganticus. |
| 30 | The Evil Alliance | With the Triple Sphere at full power, Tenoroc sends three villains at once: Redbeard in the Region of Ruins, Medusa in the Sea of Sands and The Mummy in Carnival City.Can Matt and his friends beat three supervillains at once or will the multiverse fall under the might of Tenoroc. |
| 31 | Flight Of The Golden Arrow | Tenoroc sends Cupid to find the last golden arrow of Apollo so he can fire it into a multiverse skyrip so realms will collide and Tenoroc will be free. |
| 32 | Return To The Future | The fate of the multiverse rests on Matt's shoulders this time. Tenoroc unleashes a time- twisting super villain called Tick Tock to change the outcome of Alfred and Tenoroc's final battle by going back in time. Matt needs to be on his toes this time because with his time bombs, Tick Tock will be hard to defeat. |
| 33 | The Doom Stone | Tenoroc plans to destroy the Enchanted Forest by setting the dim witted Troll to sniff out an evil rock called the doom stone. With that, black acid rain will pour down on the Enchanted Forest and with the most powerful, secret and most respected realm of all gone, The multiverse will crumble. |
| 34 | The Warriors Code | The Black Knight in back and badder than ever, his quest is to find and search out the mystical council of trees so he can uproot their life root which contains all of the secret and powerful knowledge of the enitire multiverse, Matt must stop the Black Knight at all costs before it is too late. |
| 35 | Forests Of Fears | Tenoroc sends two villains to the Enchanted Forest this time: The human flame-thrower, Fire Phoenix and the bull headed Minotaur to destroy the multiverse both in their own unique purpose. Can Matt send both of these villains back into the chronicles or will it be too much and will the multiverse be brought down by Tenoroc's might? |
| 36 | Lightning Strikes Twice | Thanks to a freak meteor storm in Carnival City,Captain Lightning has now been turned into two Captain Lightnings, Tenoroc orders both of them to try and find some Multivisium so Tenoroc can destroy the multiverse and kill the street kids. |
| 37 | Shrinking Gas | In order to bring the Multiverse to its knees, Lord Tenoroc sends the small but deadly Gangster Bug to stink up the airways. He heads to the Enchanted Forest where Matt needs to shrink down to the size of a cocroach to bust up Gangster Bug before he busts up the entire multiverse.11- Shrinking Gas |
| 38 | The Tigers Eye | Tenoroc releases Shintora, the rogue tracker and tiger huminoid who is an expert matial artist to steal Roxie's staff and to find the Neverglade, a hidden part of the Enchanted Forest known only to trackers and to connect with its hidden amber to be able to reap devestation across the multiverse!! |
| 39 | The Key Of Realms | }|} |