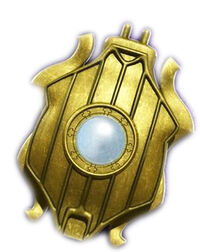 Scarab Amulet is an object appeared in Matt Hatter Chronicles TV series. It is an amulet found by Gomez that can open any ancient door in the Multiverse.
Overview
Edit
It first appeared in the episode "Villain Vault Escape" where Gomez said that he had got it as an amulet that helps him unlock any door. Throughout the episode, Gomez used it many times to unlock the doors of the pyramid found in the Sea of Sands.
In the episode, Prowler seems to be interesting in having the amulet.
Ad blocker interference detected!
Wikia is a free-to-use site that makes money from advertising. We have a modified experience for viewers using ad blockers

Wikia is not accessible if you've made further modifications. Remove the custom ad blocker rule(s) and the page will load as expected.